Cdogman was riding through California and Sherri and I invited him to stay in my guest room/office. Yep, I work from home and the guest room is also my office so the double bed is shoe horned in between two computers and a packed closet. If you're tired, it works
Robin and Kenra stayed for two nights, arriving Wednesday. Robin brought single malt Scotch (nice) and I gotta say they were some of the easier house guests I've ever had. Sherri and I both had a great time with them!
Thursday we were riding. Barabus had rode to Shasta to get his Russell Day Long on Wednesday. Funny, Robin was up there the previous day getting his from Rick Mayer. I rounded out the custom saddle department with my Bill Mayer. I'll let Barry and Robin comment on their seats, but they sure looked nice! We met Barry in Downievilled on 49 for lunch. I then took them on a little adventure toward Placerville. The planned route was:
49 to Nevada City
174 to Colfax
Iowa Hill to Foresthill Road
Forresthill to Mosquito Ridge Road
Mosq. to French Meadows
Then that fire road up to Wentworth Springs Road
to 193 to Placerville
Due to timing, we skipped the best part of the route (Mosquito to Wentworth to 193) and just went to 49 from Foresthill and over. Barry had to meet up with Skyway by 6 in Sonora. Did you make it Barry?
Here's how the ride starts. Getting two FJR's, a FZ6 a Honda Accord and 12 years of accumulated crap in my garage was easier than I expected. Here is Robin checking the air in his new tires (I'll let him tell this story...thanks Roseville Yamaha!)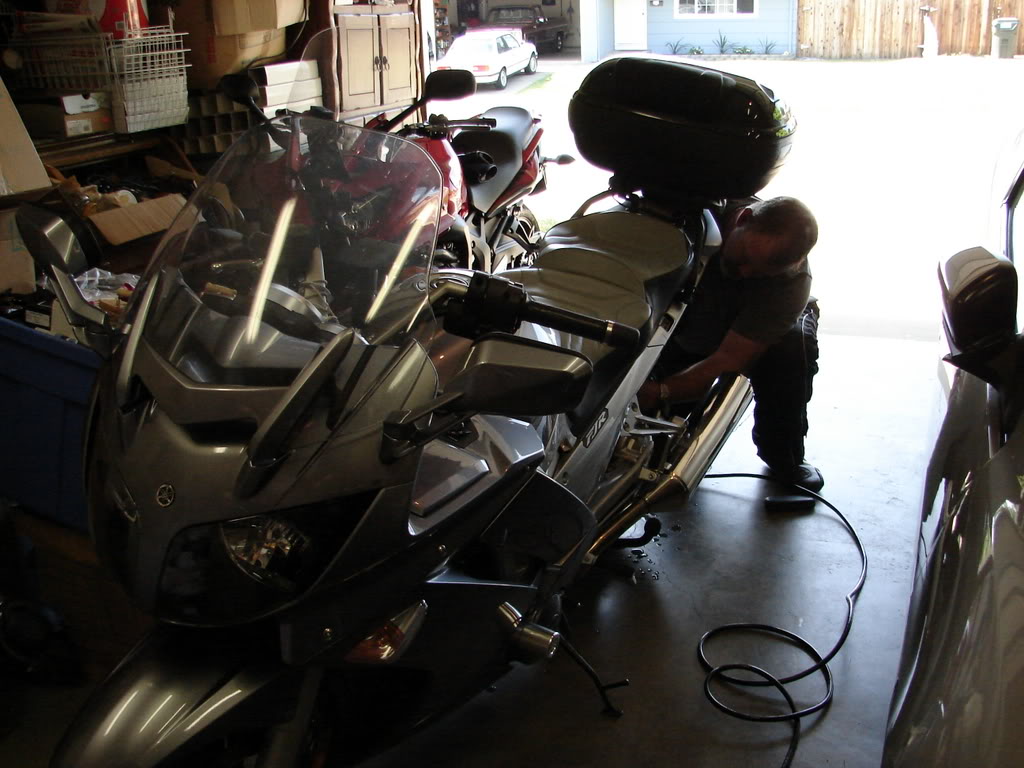 The two bikes ready to roll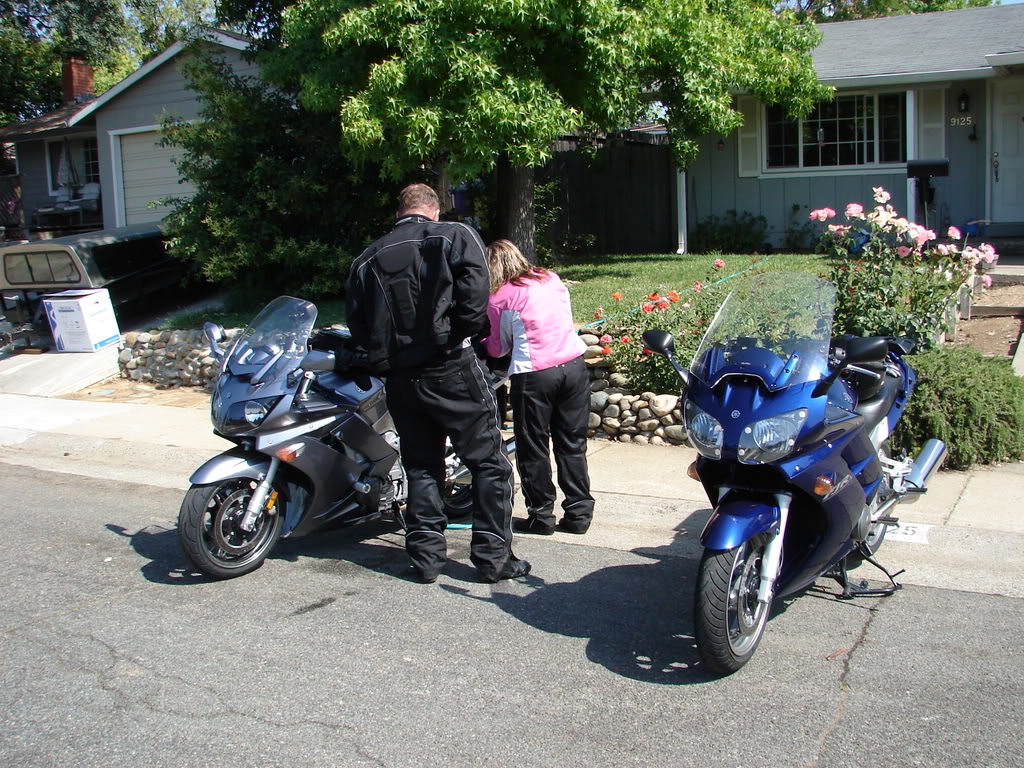 For those that wanted me to finish my rock wall, I'm getting there...almost done!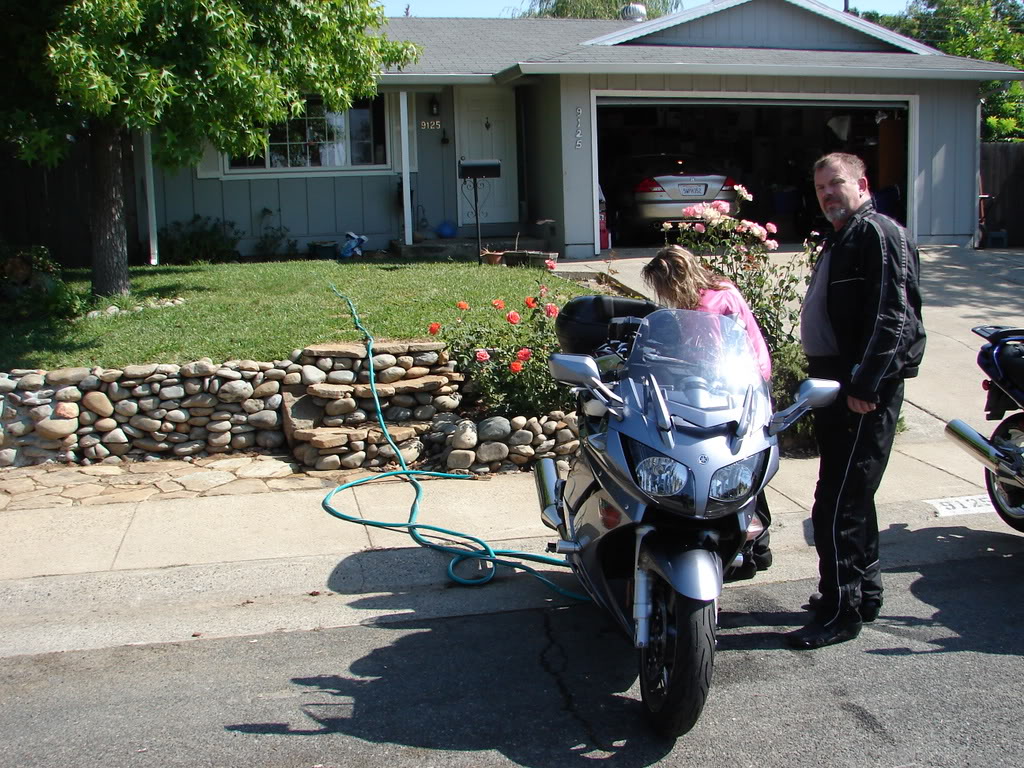 Kenra, Robin and Barry at lunch in Downieville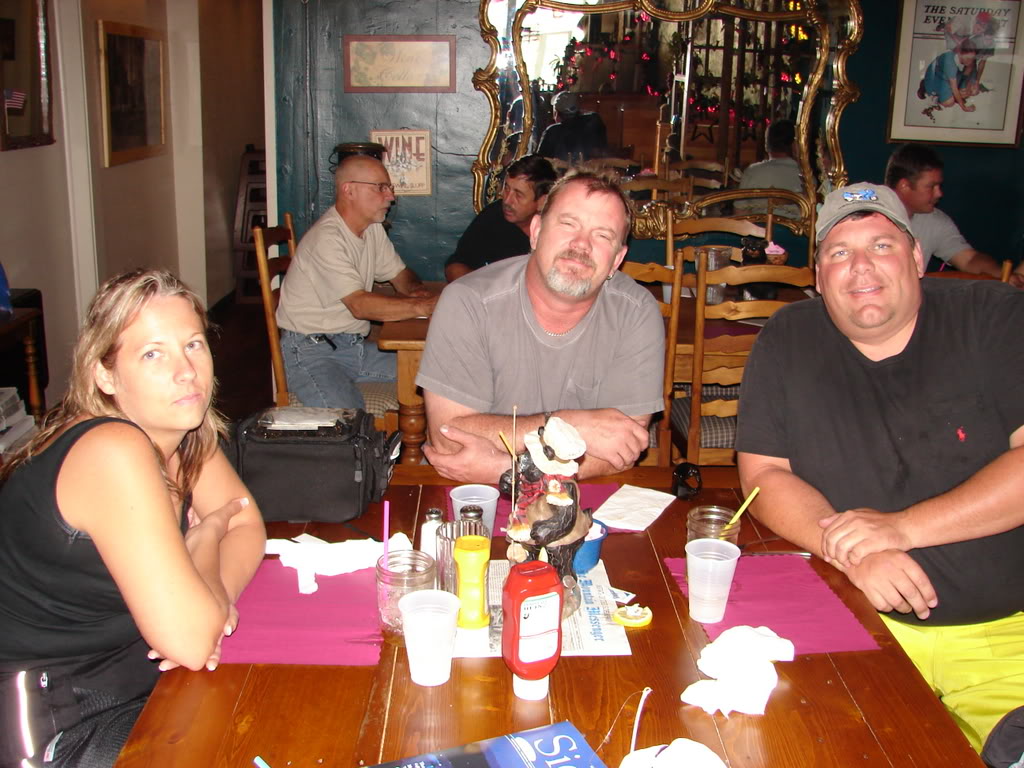 Some guys out adventure riding the trails around Downieville. I have rode from Downieville to Colfax on a quad before...the dirt trails are a plenty in these hills.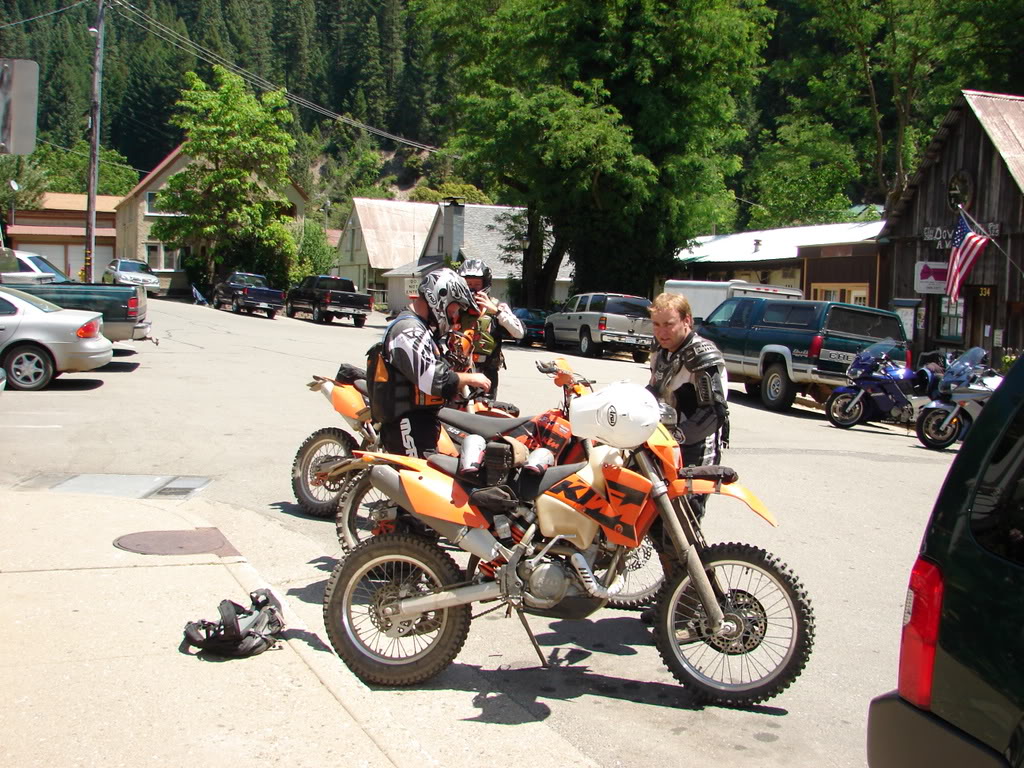 New technology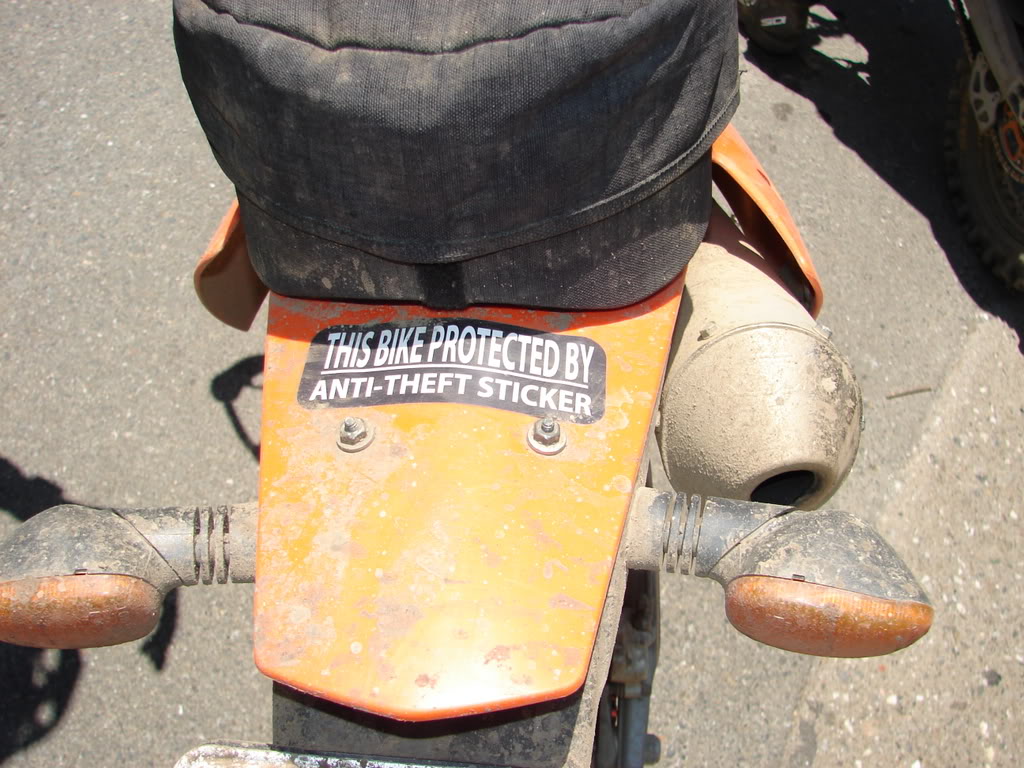 FJRs readying to depart Downieville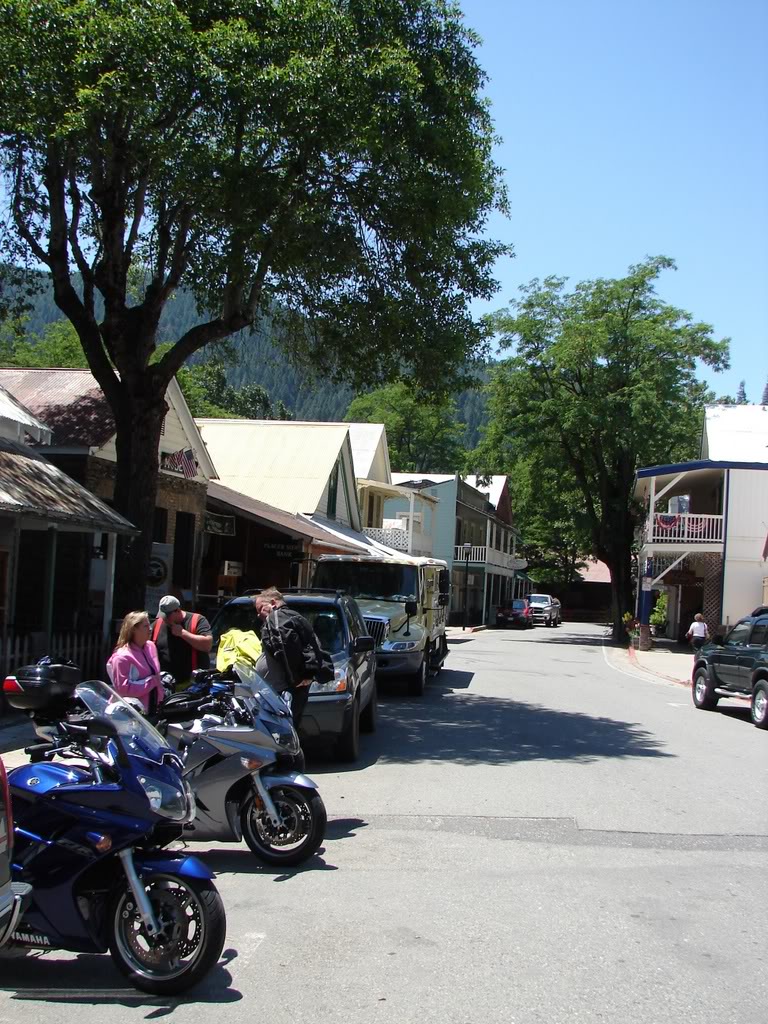 I asked the other two to lead so I could get some pictures. Here we go!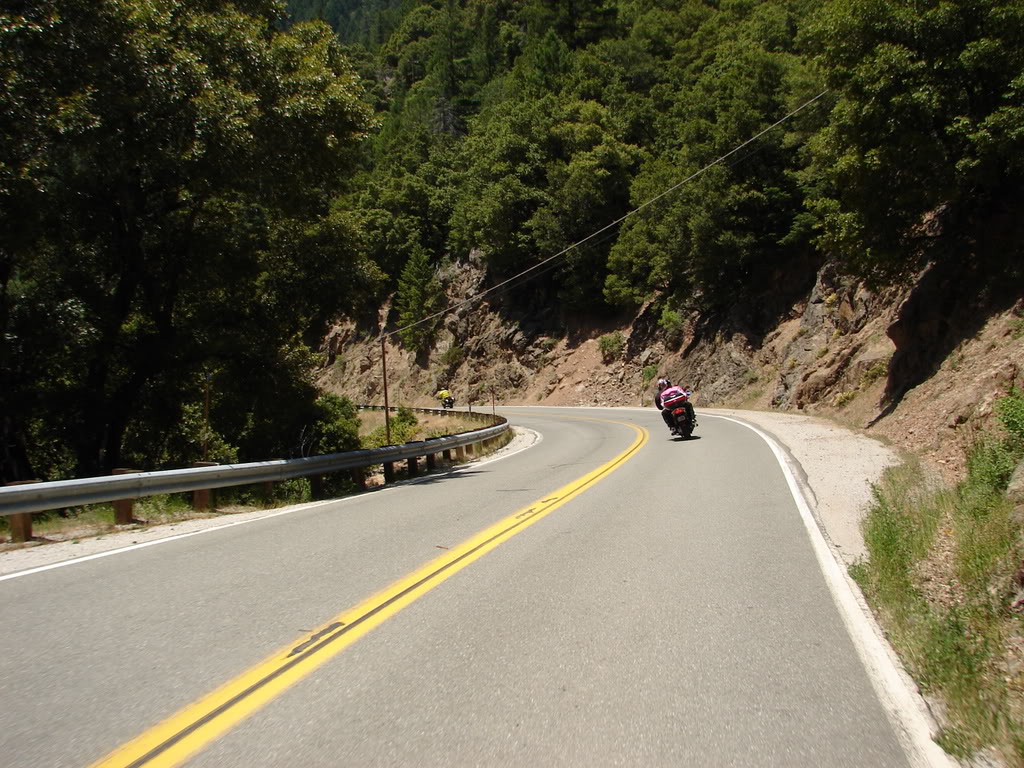 Good thing we were taking it easy - local Sherrif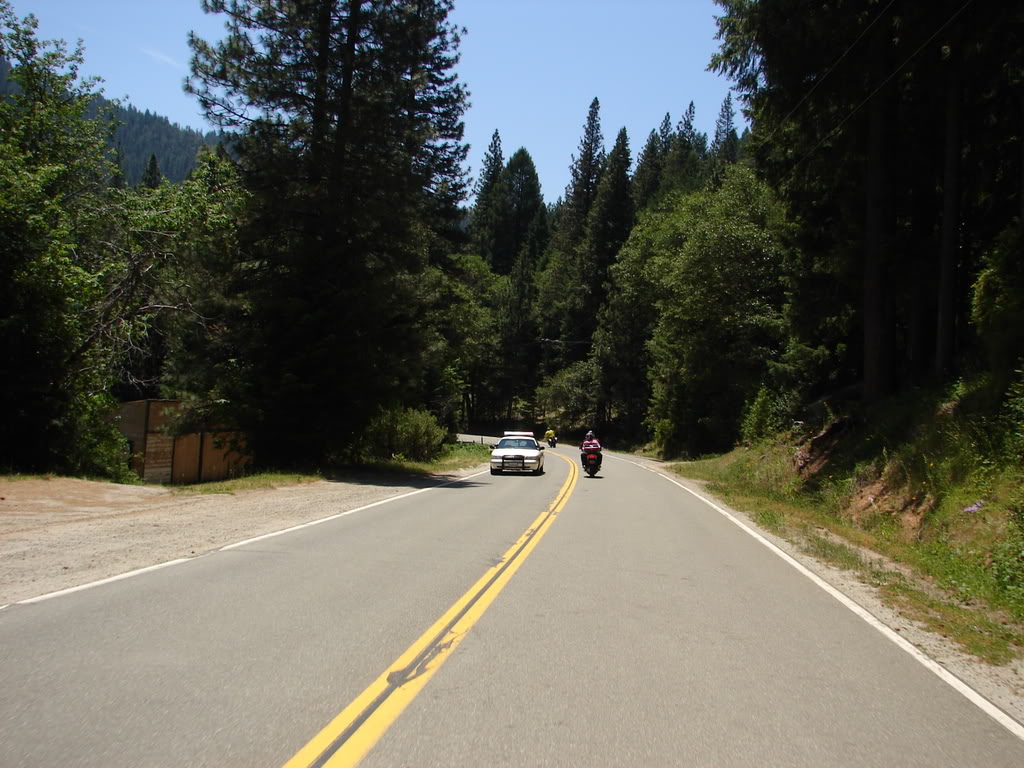 Barabus was in the lead, then Cdogman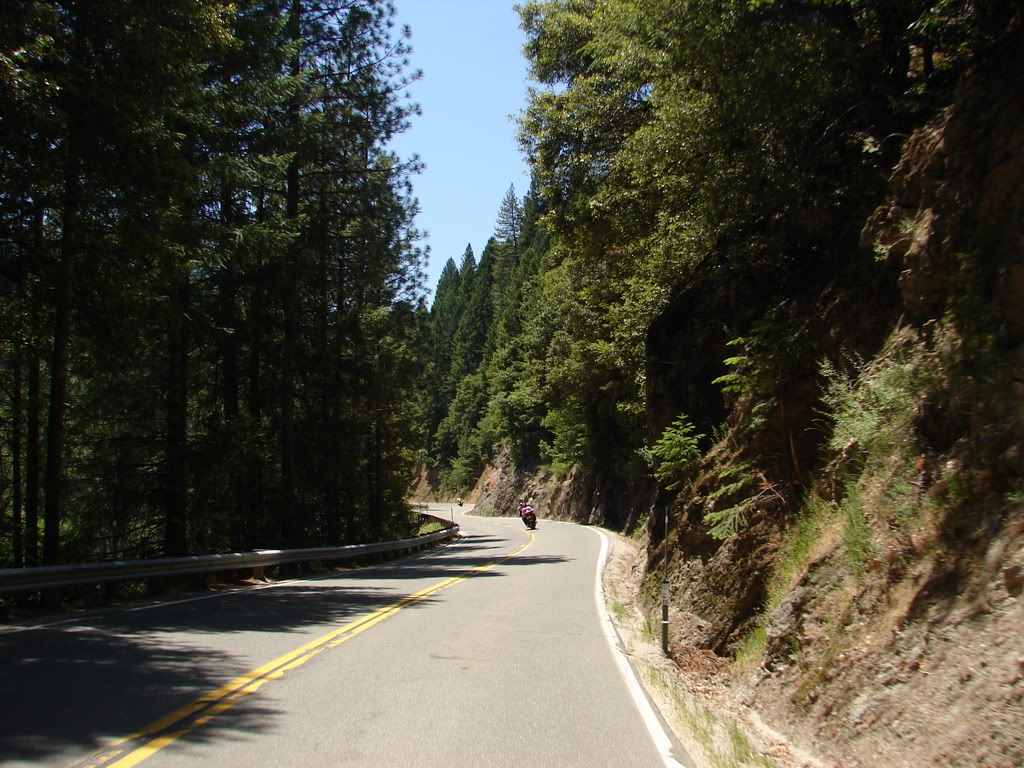 Barry started putting some distance on us.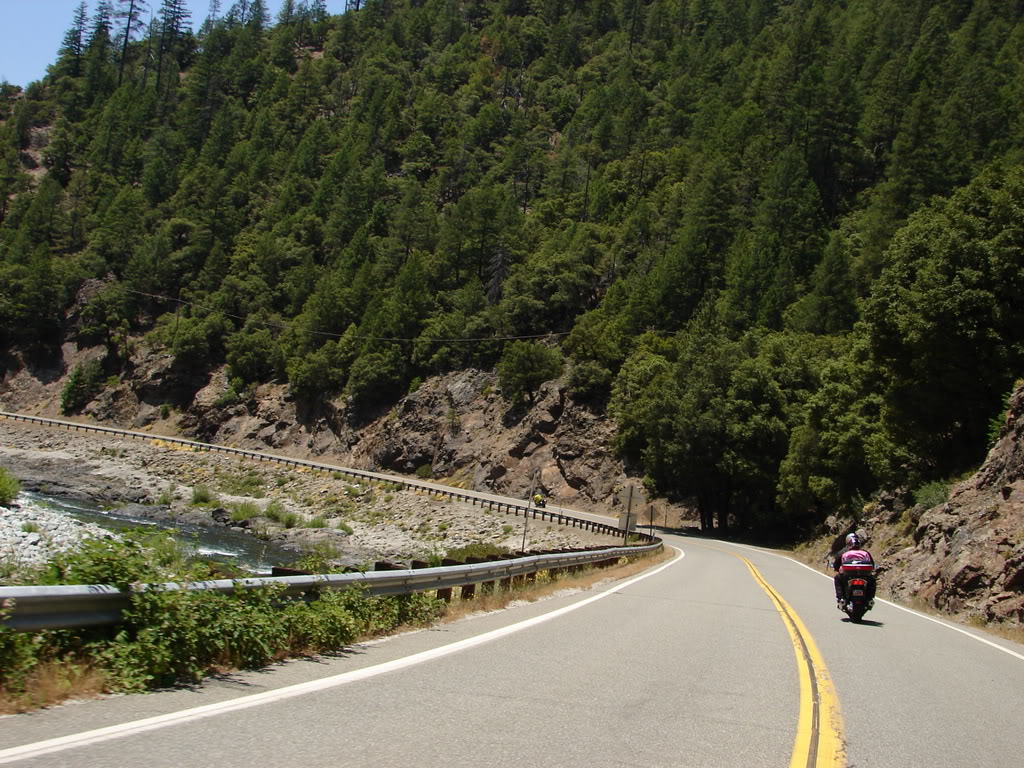 There he goes!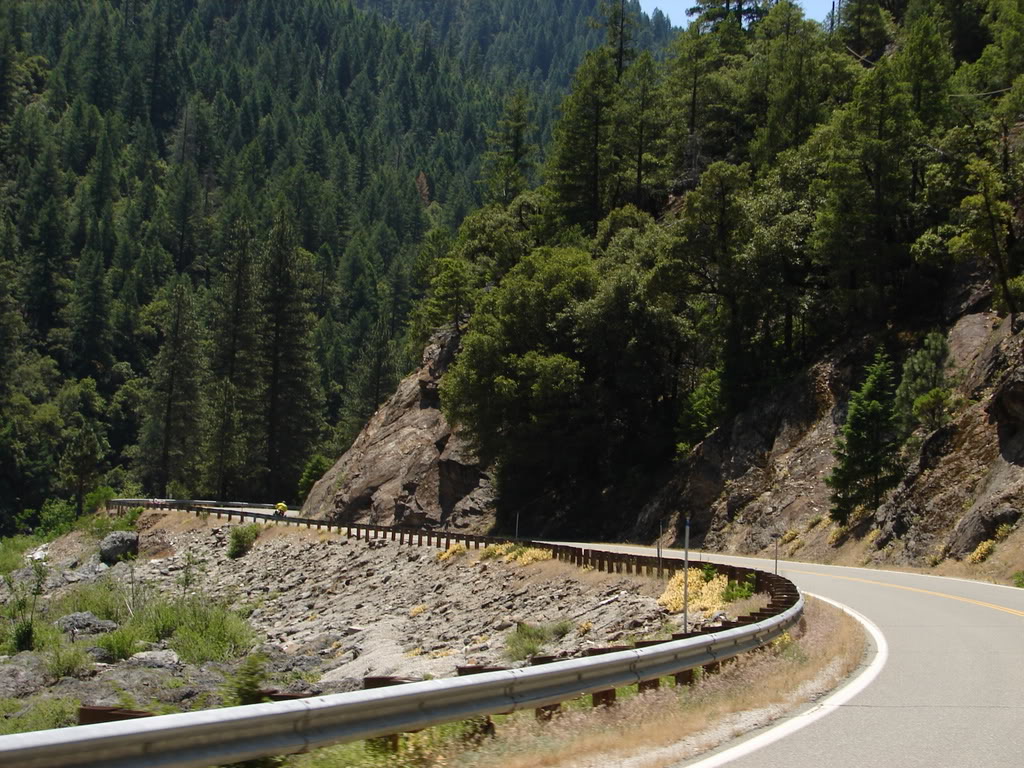 He's gone...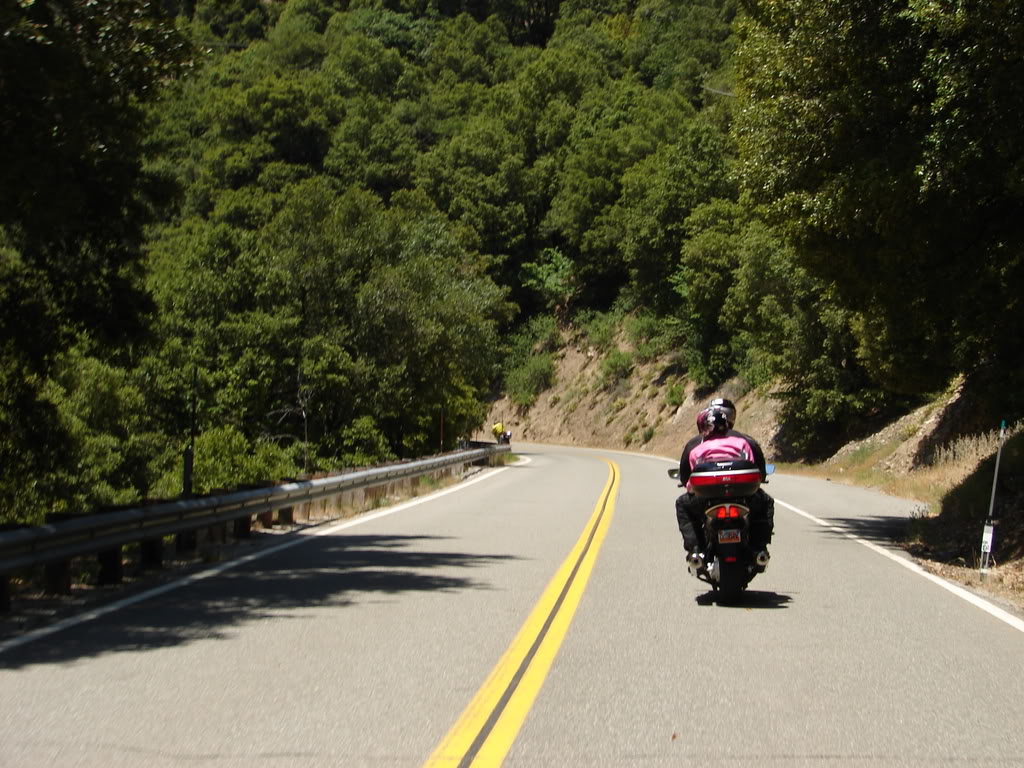 uh oh...looks like we're going to catch up to him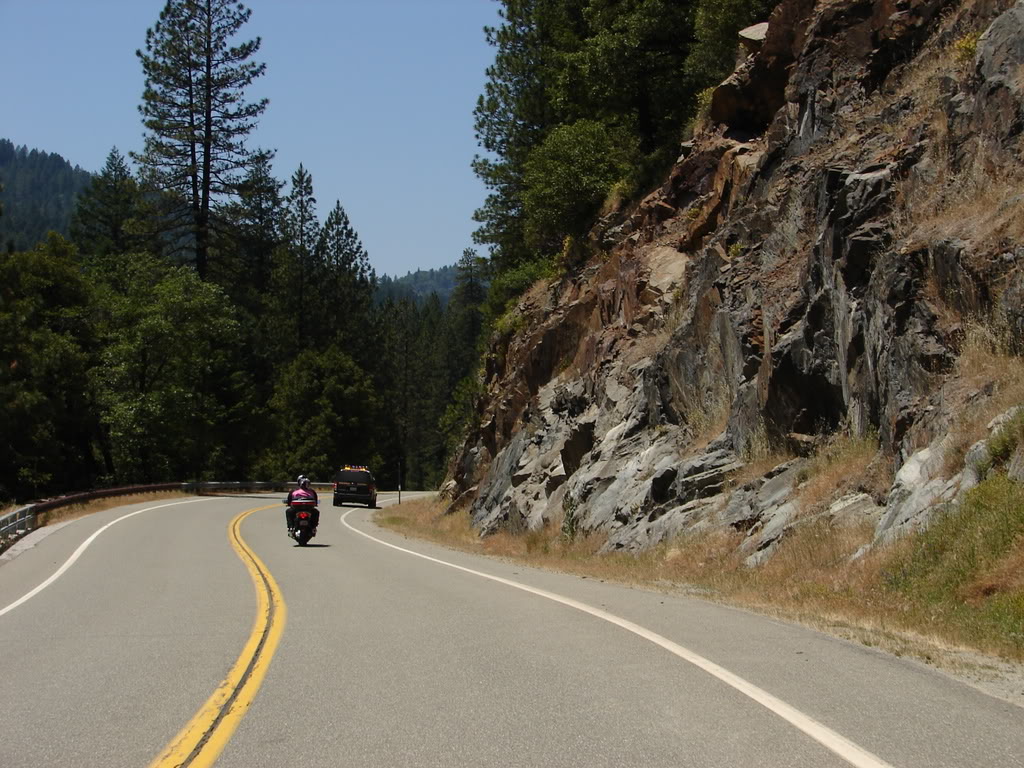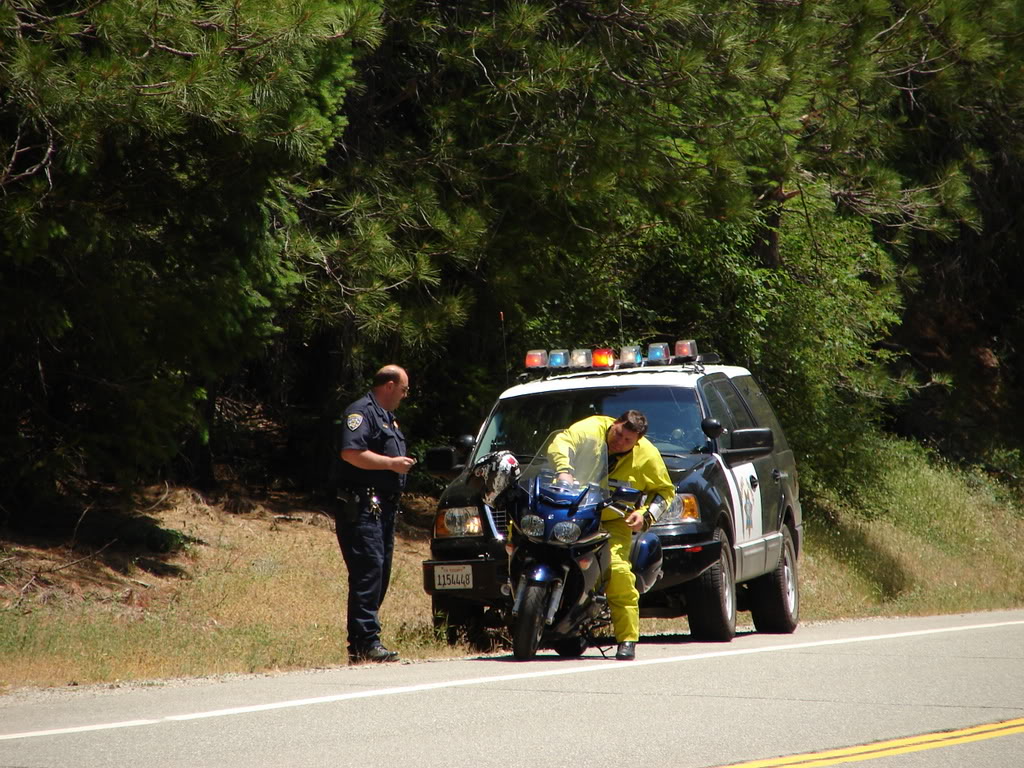 We park in the shade as Barry talks his way out of...well...going at an FJR clip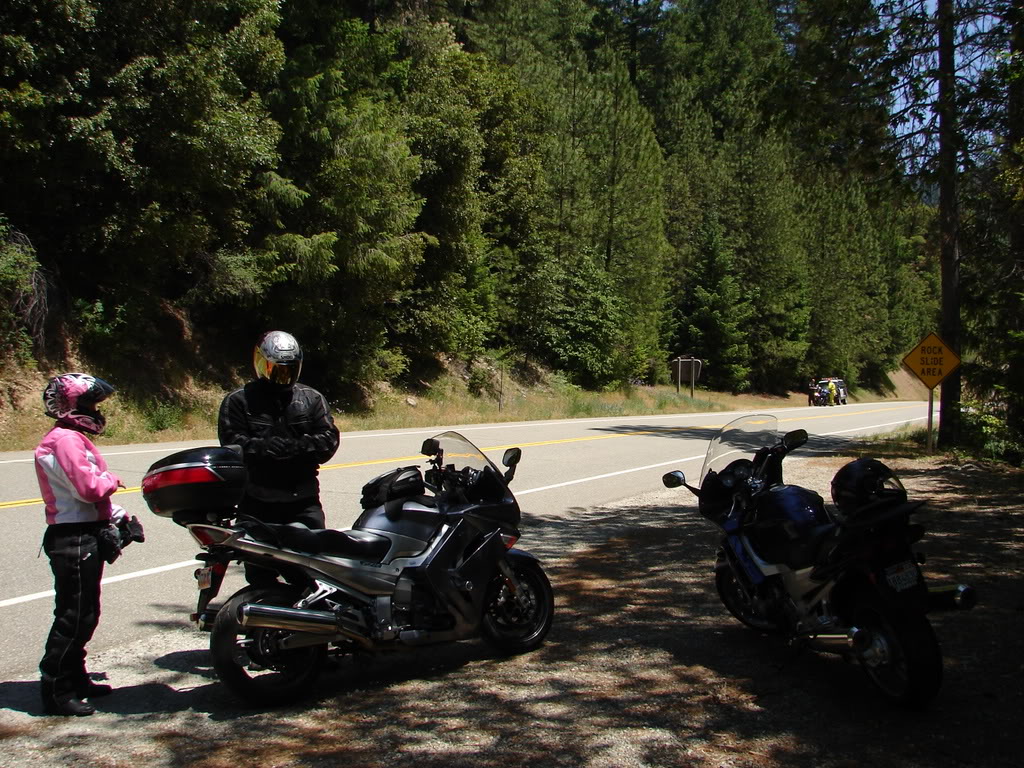 I should have warned Barry. 49 is pretty well patrolled. Take the turns fast, but take the straights easy. I felt bad asking him to lead in my hood and then to have him get a ticket.
After that episode, someone asked me to lead and I'm not so good at taking pictures over my shoulder.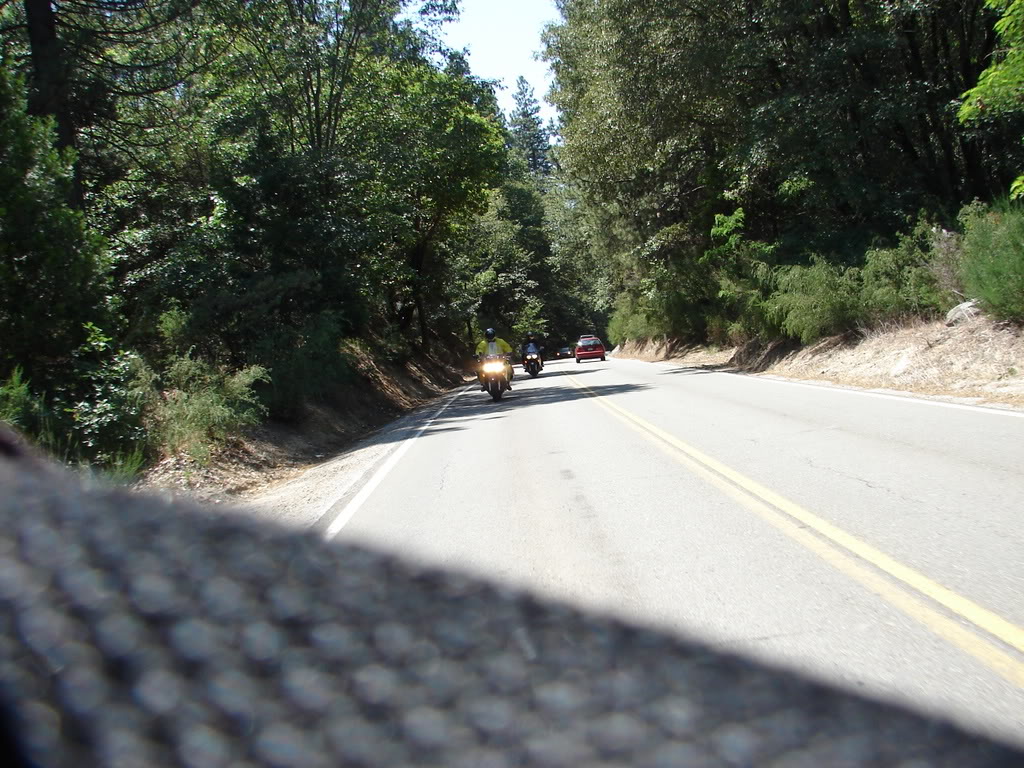 We went through Nevada City. This is a fun town to walk.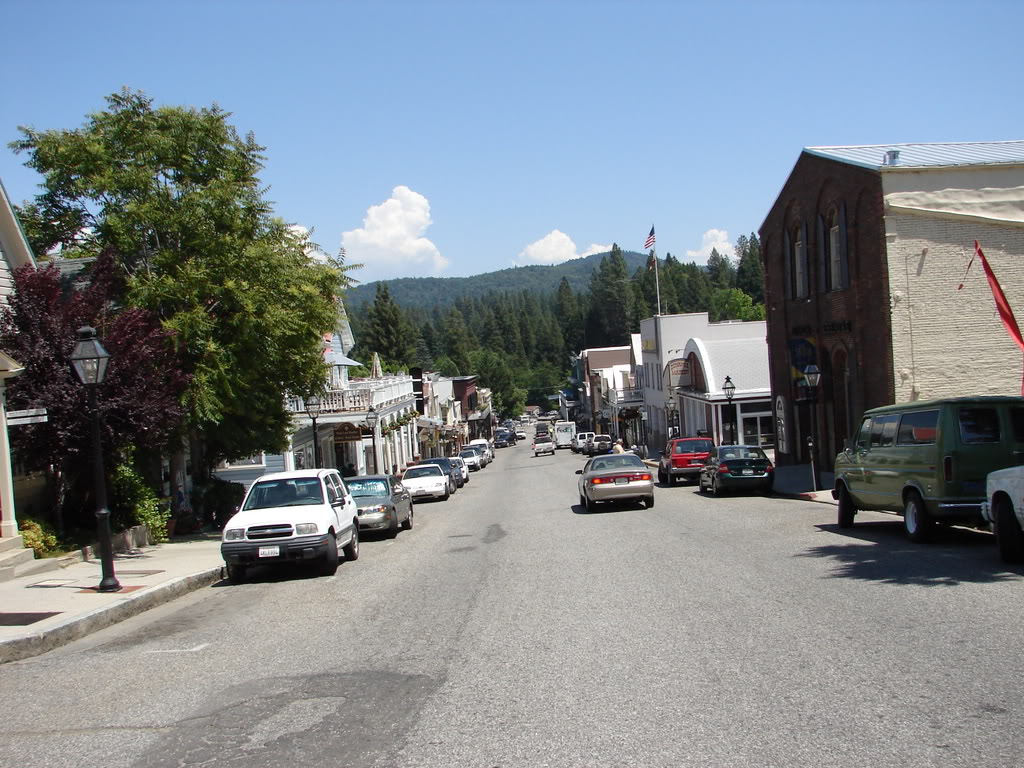 174 was uneventful: too much traffic for any fun. I took them East on a fun road that parallels 80 for a bit them we scooted back down to Colfax on 80 and took Iowa Hill Road. Here's Barry on the bridge over the North Fork of the American River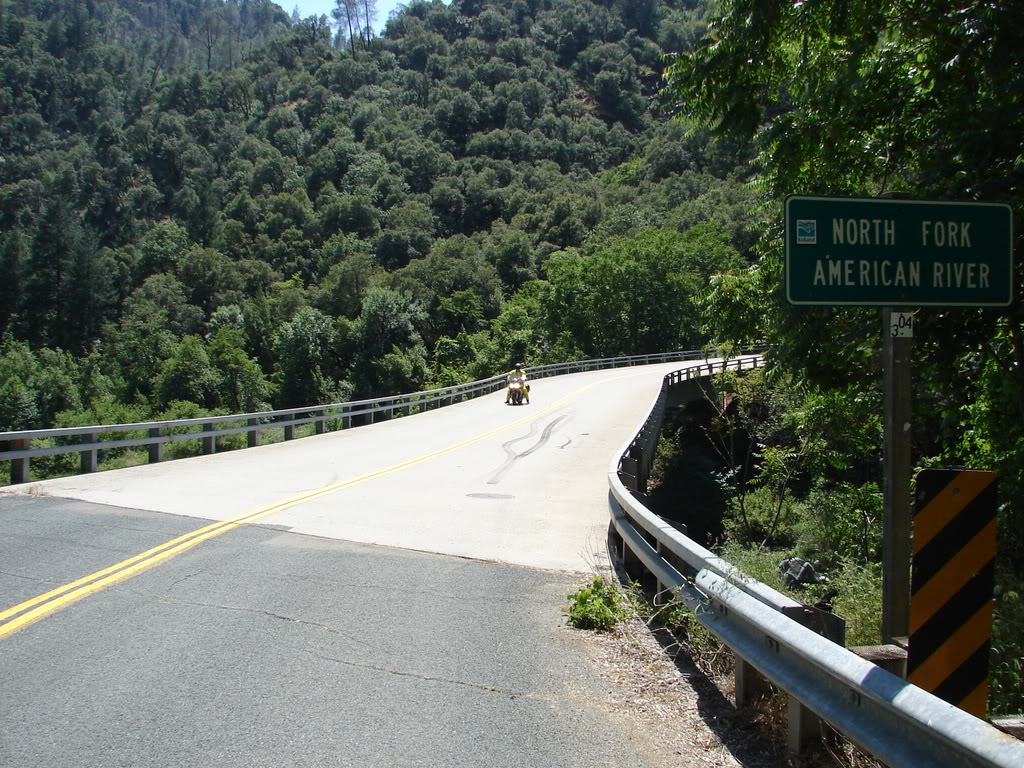 Robin and Kendra near there too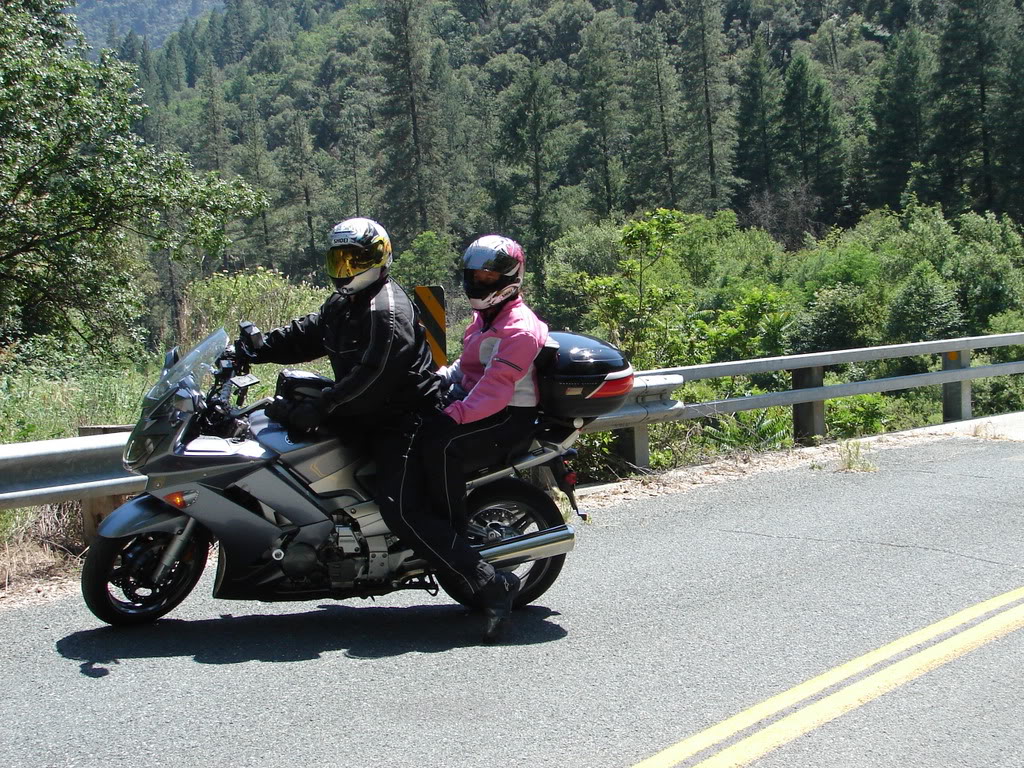 Then we climbed up the other side. Barry said, "That's the first time I've seen turns marked 5 m.p.h!" Robin replied, "Some of them should have been marked 4!"
Iowa hill is a goaty little road with quite a few twists. It's not good for out and out hooliganism because oncoming traffic would ruin your day (life) as the road is so thin, and also because mistakes often would be accompanied by a 500 foot drop.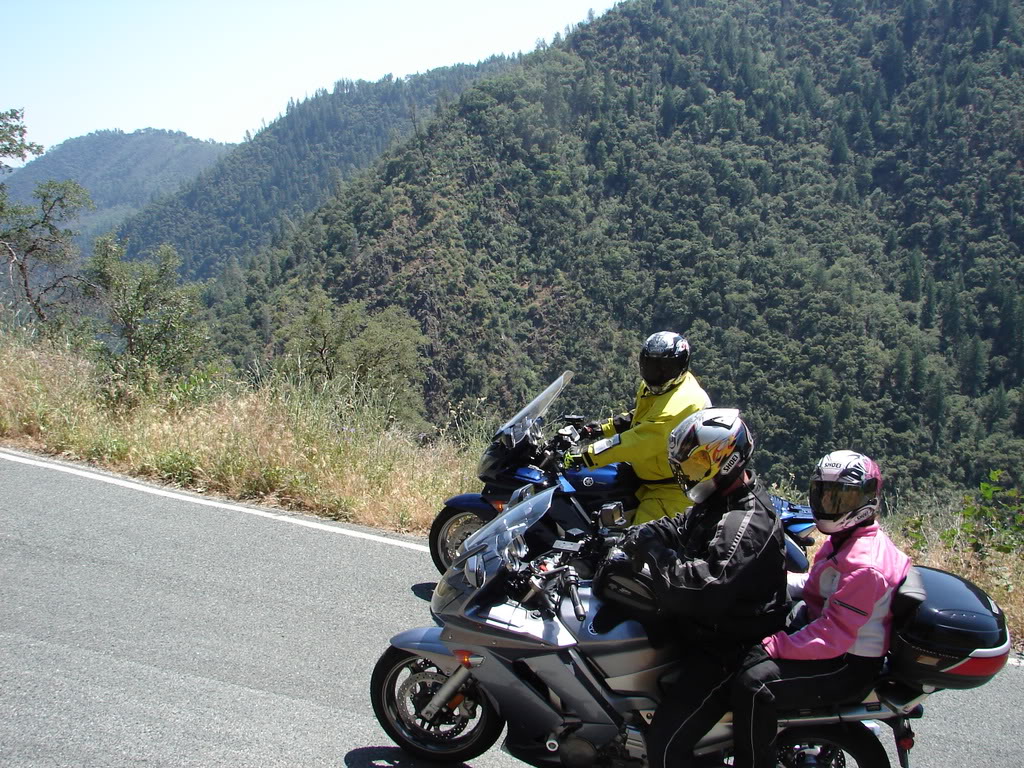 but it's pretty up there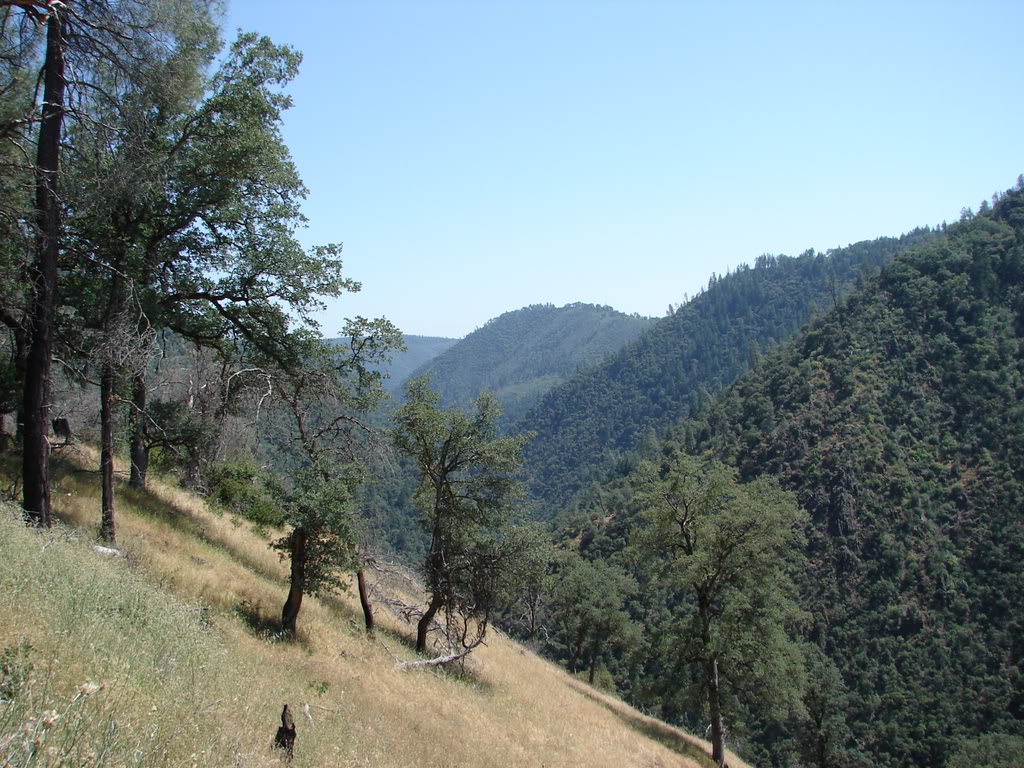 Locals put up a sign for us